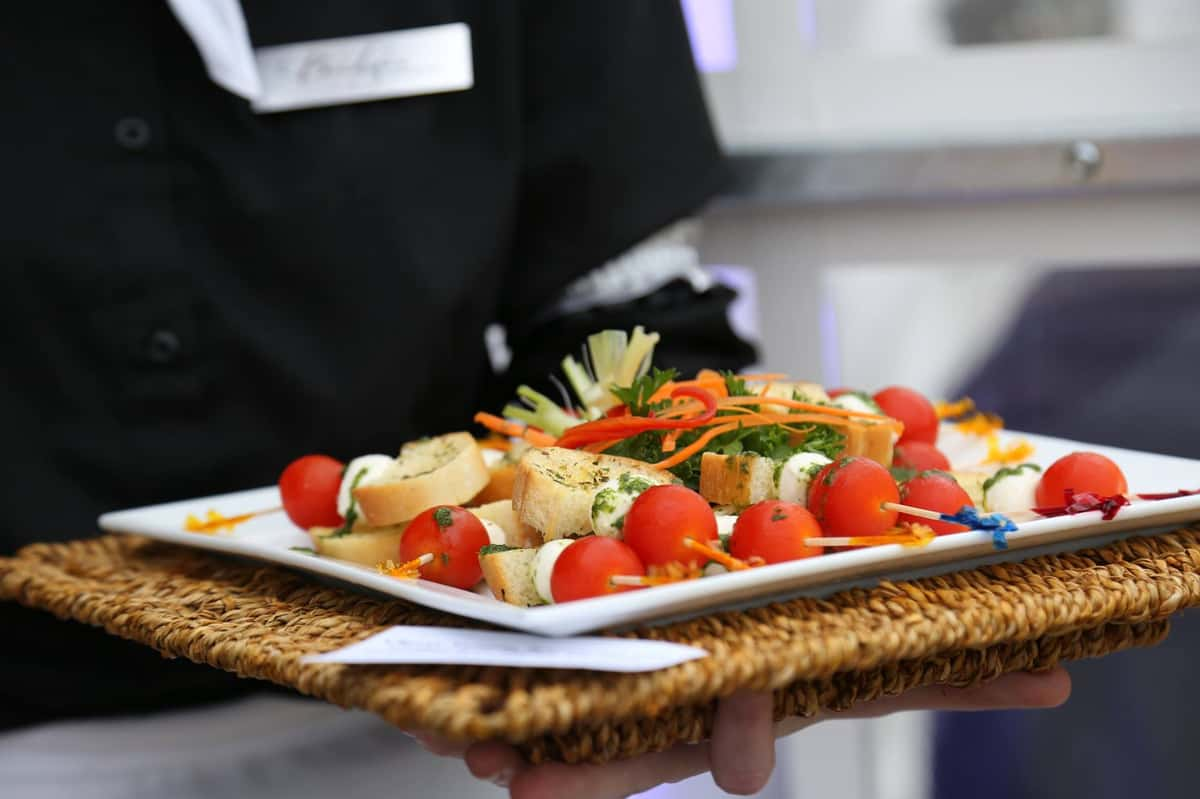 Reviews
Jen D.
Thank you so much for everything! I was impressed with your efficient coordination, flexibility and you were all so friendly. The food was amazing to top it off. Our executive team, staff and guests were all really impressed.
Thanks again,
Willow Glen Systems
Connie
Thanks for the wonderful job you and your team did. I thought the servers were very good and I did get feed back from some people that they were very friendly. The food was delicious! I was very impressed with how clean and tidy everything was kept. You were very discrete in everything you did - in fact you almost got away without us thanking you! I will most definitely pass your contact information onto anyone who asks.
Emily R.
"The best! Bridges catered a wine and food tasting on Saturday and the food we ate was the talk of the evening!! Staff were professional and extremely helpful. We will be back again!!!"
James & Kelly Hill.
- I was very impressed with how you/Bridges were able to accommodate my last minute requests (add the cornbread, change the linen colours) with absolutely no questions asked.
- Overall, we were EXTREMELY impressed with the quality of the food and the high level of service. You made everything SO easy, and even the minor mix-up with the leftover food getting taken back to Bridges (instead of getting left at the event) was remedied as the leftovers were neatly separated into smaller freezer portions and hand delivered to our door. Excellent service!
We will absolutely recommend Bridges to anyone looking for a wedding caterer!
Paula K.
I attended an event last evening that was catered by Bridges. The food was, in a word, incredible. The hot items stayed hot and the cold items did not get wilted. There was an excellent selection for every taste and dietary need, including vegetarian and I believe one gluten-free item. The menu included cocktail meatballs, pork slices on crostini, chicken skewers with peanut satay sauce and coconut (my favourite for the evening!), spicy cornmeal puffs that reminded me a bit of pakoras, puff pastry with cheese inside, and a great selection of desserts like cookies, squares, and tarts. Since I was not involved in planning the event I have no idea about pricing, but if I was with an organization needing to cater a swanky event, I would definitely call Bridges first for a quote.
Heidi S.
I booked Bridges for my husbands birthday party. The food was amazing, but it was the customer service that won me over! Thank you Bridges!
C M.
Bridges is my first choice when I'm looking to cater a lunch meeting. The food is solid but, most importantly, they have always showed up on time! Unfortunately, I have had less than pleasant experiences with other catering companies who have failed to show up entirely, or have not responded to my catering requests. Bridges staff always answer my emails as quickly as possible, and are very accommodating.
I have never received any complaints about the food, and have personally tried a few of their sandwiches, desserts, salads and appetizers, all of which were good. I would recommend Bridges to anyone looking for a reliable catering company.
Shawna B.
Amazing food and the most wonderful staff!
Kirstie ~ Lloyd Sadd
Thank you following up, the event was a hit!
The staff was amazing and super helpful. Our clients we greatly impressed with the food, drinks and the staff.
We will definitely use Bridges in the future and will refer others as well.
Thank you so much for helping make our event awesome!
Kathryn
My mother was very happy with the event and found your services and your staff excellent. The food was delicious and you handled my niece's request for even more vegan than vegetarian with grace. I apologize again for the mix up with the oven (or lack thereof). We were not inconvenienced in the least as you made up for that very well.
Everyone enjoyed the evening - and not having to worry about the food made it a most pleasant and stress free event for my mom and I.
I would definitely work with Bridges again.
Kathryn
Peggy.
Hi just wanted to say a big "thank you" for all your help with our wedding celebration. Our guests said the food was great! and the servers are so helpful and are very personable ... like asking how they liked the food. Also they were so helpful with moving the dishes,flowers, candles , tables etc. Hope you all had today off.
Just very happy with your company and the service provided! Bonus !!! We are having pulled pork sandwiches and beans for a whole pile of family tonight! Yum and again Thanks!
Chris Ballard.

You and your staff did a fantastic job last Wednesday. We were very happy with both the food and the service that was provided. I will highly recommend Bridges to anyone looking for a catering service. Thank you for your help making the event a successful one.



Norma Jean ~ NJ Productions Plus LTD.


perfect event...food was simply delish...no negative comments ...
will be calling on you again...thank you for making us look so good!
Andrea.
Thank you for all the help you gave us for the event Tuesday evening. You made planning the event easy, and we appreciate how responsive and helpful you were. Everything went well at the event and we certainly appreciate all you and your colleagues did to make it a success.
Many thanks.
Jamie D.
Your staff were great, efficient, polite. I could hardly tell they were there and I didn't notice the food or beverages get empty, so kudos to them.